Your Children Deserve The Very Best
Quality
The sturdiest free standing playsets in the world are made by Rainbow Play Systems! Find out why our structural integrity is second to none.
Safety
Where children's safety is concerned, lightweight, wobbly swing sets simply aren't going to cut it. Explore our unmatched safety features.
Warranty
Our playsets are truly designed to last a lifetime. Discover how our industry leading warranty ensures years of intensive play.
Installation
Our professional delivery and installation service is available nationwide so you can enjoy your playset without the hassle of setting it up. See how it works.
Building A Better Playset
Find out why Rainbow Play Systems has been America's Most Trusted Brand Name for over 30 years!

Recessed Hardware
Recessed hardware ensures clothing doesn't get caught during play.

Notched Beam
Designed for maximum support by bracing wood against wood.

Plastisol Coated Safety Bars
Plastisol is extremely durable, scratch-resistant, and easier for little hands and feet grip.

Heavy Duty Nylon Rope
Our 1" thick nylon rope allows for bigger, easy to grab knots and tangle-free fun.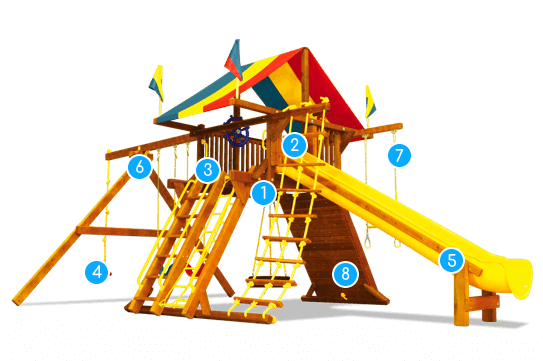 Super Scoop Slide
Our one-of-a-kind Super Scoop Slide has super high sidewalls and full cedar supports for extra safe (and extra fun) sliding.

Super Duty Swing Beam
For 1/2" carriage bolts secure the swing beam to the base structure for an ultra-strong and ultra-stable swing beam connection point.

Swing Hangers
The most durable swing hangers ever created guaranteed to last a lifetime.

100% Cedar Lumber
Decay resistant, 100% sustainably sourced cedar is used for every piece of wood on the playset to create a stunning and durable structure.
Visit a Showroom Near You
You truly have to see it to believe it! Bring your family to one of our nationwide showrooms to experience our dedication to quality in person. Climbing, sliding, and swinging is encouraged.
Get Pricing
Want to see all our products and prices? Request a catalog and page through it with your family to find the perfect playset!
Download Catalog